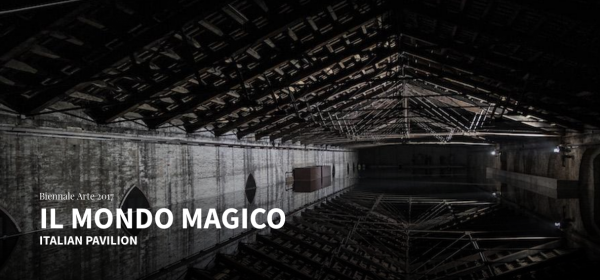 The 57th International Art Exhibition Viva Arte Viva, organized by La Biennale di Venezia chaired by Paolo Baratta and curated by Christine Macel, closed on November 26th 2017.
The President and curator at the Open Meeting have draw their conclusions on the Exhibition, which attracted extraordinary interest and a great number of visitors.
The Exhibition, which lasted over 6 months, has been the most visited exhibition in Italy and registered 615,152 visitors, on top of the 23,531 attendants of the preview days.
Interlinea Fine Art Services boasts engagement in several editions of La Biennale di Venezia. This year renewed its commitment in different set-up of National Participations and Collateral Events unfold to the central exhibition from Arsenale to Giardini, and hosting in Institutes and Museums of the city.
In particularly, Interlinea Fine Art Services is proud to have supported as a technical sponsor the Italian Pavilion titled Il mondo magico [The magical world], curated by Cecilia Alemani with new projects by the artists Giorgio Andreotta Calò, Roberto Cuoghi, and Adelita Husni-Bey.
Interlinea Fine Art Services contributed to the following National Participations:
- New Zealand Pavilion Emissaries by Lisa Reihana. Commissioner: Alastair Carruthers. Curator: Rhana Devenport. Venue: Arsenale;
- Philippine Pavilion The Spectre of Comparison by Lani Maestro and Manuel Ocampo. Commissioner: Virgilio S. Almario Chairman, National Commission for Culture and the Arts (NCCA). Curator: Joselina Cruz. Venue: Arsenale;
- Singapore Pavilion Dapunta Hyang: Transmission of Knowledge by Zai Kuning. Commissioner: Paul Tan, Covering CEO, National Arts Council Singapore. Venue: Arsenale;
- German Pavilion Anne Imhof by Anne Imhof. Commissioner: ifa Institut für Auslandsbeziehungen on behalf of the Federal Foreign Office. Curator: Susanne Pfeffer. Venue: Giardini;
- Georgia Pavilion Living Dog Among Dead Lions by Vajiko Chachkhiani. Commissioner: Ana Riaboshenko, on behalf of the Ministry of Culture and Monument Protection of Georgia. Curator: Julian Heynen. Venue: Arsenale;
- [Participation] Nordic Countries (Finland-Norway-Sweden) Pavilion Mirrored by Siri Aurdal, Nina Canell, Charlotte Johannesson, Jumana Manna, Pasi "Sleeping" Myllymäki and Mika Taanila. Commissioners: Ann-Sofi Noring, Moderna Museet, (Sweden), with Katya Garcia-Antón, Office for Contemporary Art Norway OCA (Norway) and Raija Koli, Frame Contemporary Art Finland (Finland). Curator: Mats Stjernstedt. Exhibitors:. Venue: Giardini;
- Polish Pavilion Sharon Lockhart. Little Review by Sharon Lockhart. Commissioner Hanna Wroblewska. Curator: Barbara Piwowarska. Venue: Giardini;
[first national participation] Nigeria Pavilion How About Now? by Peju Alatise, Victor Ehikhamenor, Quddus Onikeku. Commissioner: Godwin Obaseki. Curator: Adenrele Sonariwo. Venue: Scoletta dei Tiraoro and Battioro.
Interlinea Fine Art Services was involved in the following Collateral Events:
- The Home of My Eyes by Shirin Neshat, at Museo Correr. Curator: Thomas Kellein. Promoter: Written Art Foundation Project;
- Songs for Disaster Relief by Samson Young, at Arsenale. Curator: Ying Kwok. Consulting Curator: Doryun Chong. Promoter: M+, West Kowloon Cultural District; Hong Kong Arts Development Council;
- A Bonsai of My Dream by Cheng Pou. at Arsenale. Curator: Ng Fong Chao. Promoter: The Cultural Affairs Bureau of the Macao S.A.R. Government; The Macao Museum of Art;
- The Court of Redonda by Stephen Chambers, at Ca' Dandolo. Curator: Emma Hill. Promoter: The Heong Gallery at Downing College, University of Cambridge;
- Doing Time by Tehching Hsieh, at Palazzo delle Prigioni. Curator: Adrian Heathfield. Promoter: Taipei Fine Arts Museum of Taiwan;
- Contrapuntos by Fernando Zóbel, at Fondaco Marcello. Curator: Ditas R. Samson. Promoter: Ayala Foundation/Ayala Museum;
- Modus by Francesco Bocchini, Shay Frisch, Omar Galliani, Resi Girardello, Gong Hao 宫浩, Paolo Grassino, Lemeh42, Victoria Lu, Marotta & Russo, Gianni Moretti, Maria Elisabetta Novello, Antonio Riello, Davide Rivalta, Tang Hui 汤辉, Wang Zimu 王梓木, Zhu Hongtu 朱宏图, Zou Cao 邹操, at Ca' Faccanon. Curators: Martina Cavallarin and Eleonora Frattarolo. Promoter: WAVE's (women arts Venice).
Image and info: www.labiennale.org