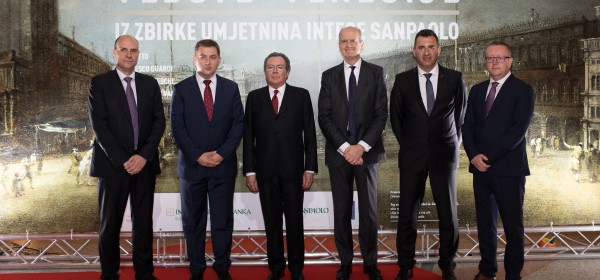 Interlinea Fine Art Services at City Hall of Sarajevo. Handling, packing, transporting and set up of the exhibition 'Venetian vedute' from the Intesa Sanpaolo Art Collection, for the first time exhibited in Bosnia and Herzegovina
The paintings of Canaletto, Guardi, Marieschi and van Lint have arrived from the Gallerie d'Italia – Palazzo Leoni Montanari, one of the most beautiful baroque palaces in Vicenza.
These four artworks will be exhibited until 03.06.2018 at the City Hall of Sarajevo to dedicate masters of this genre to the Bosnia and Herzegovina audience.
The Intesa Sanpaolo collection of Venetian baroque paintings also keeps the masterworks of Tiepolo, Pietro Longhi and other great names of the time, as well as fascinating collections of vases from ancient Greece and Russian icons. These collections and the baroque Leoni Montanari palace in Vicenza itself are part of a large cultural project of Intesa Sanpaolo called Progetto Cultura, within which there are the Gallerie d'Italia at Piazza Scala in Milan presenting the nineteenth- and twentieth-century Italian artists,  Palazzo Zevallos Stigliano in Naples, where the last Caravaggio's masterpiece The Martyrdom of St. Ursula is exhibited, as well as the artworks from the South of Italy created between seventeenth and twentieth centuries.
Info and press release: www.intesasanpaolobanka.ba